Is it Tramping or Hiking?
A great article by Alan Granville on 'STUFF' delving into the ongoing debate about what to call the recreational activity of going for a really good long walk!
Walking a fine line: Is it called tramping or is it hiking?
For such a small word, 'tramp' certainly has quite a few diverse meanings.
The Merriam-Webster dictionary defines it as a 'vagrant' or 'foot traveller', an 'iron plate to protect the sole of a shoe' and 'a ship not making regular trips but taking cargo when and where it offers and to any port'. It is also famously 'a woman of loose morals'.
But here in New Zealand, and only in New Zealand, tramping means getting out in the great outdoors and exploring the vast backcountry.
But new research has shown that the term is beginning to slip in popularity. The Mountain Safety Council (MSC) examined searches on Google from within New Zealand over the last few years and found that tramping is now lagging behind the upstart, hiking.
From 2012, the blue line of tramping is clearly in front, but as the decade wore on, hiking closed the gap and then opened up a commanding lead.
So does that mean that in a generation or so, tramping will disappear from the Kiwi vernacular?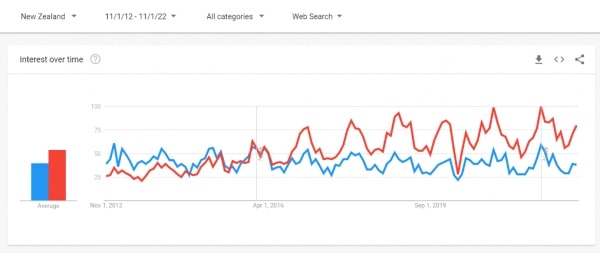 MOUNTAIN SAFETY COUNCIL
Tramping vs Hiking Google search term comparison: November 2012 – November 2022
The origins of the word tramping
For author Shaun Barnett there is one man who almost single-handily pushed tramping into the Kiwi consciousness, Frederick Vosseler. He was one of the co-founders of the Tararua Tramping Club in 1919.
Barnett, who literally co-wrote the book on the subject called Tramping: A New Zealand History, said the formation of the club was a key moment in the history of outdoor activities in Aotearoa.
While the word tramping, meaning to tread heavily, had appeared in newspapers in the late 1800s it wasn't until the club formation that it became nationwide.