Prevention is better than a cure
How to use Wool-it
General wear
STOP!! Immediately a 'hot-spot' can be felt, pull a small amount of fleece off the bundle of Wool-it.
Tease fleece out with your fingers to aerate and add resilience
Pad around the area as required or 'pack' between toes
Replace sock
Pointe Shoes:
Take a small fistful of wool-it teased out and wrap around toes to form a uniform pad
Replace tights
Additional
More Wool-it can be added as required
More Wool-it can be added at any time until the pressure is relieved.
Avoid wrapping/winding around toes as fleece felts and fibre tightens with movement
Fleece pad is sometimes re-useable depending on your comfort level
Wool-it will felt down into a compressed pad during the day and is bio-degradable
*NON STERILE and not suitable for use on broken skin or if you are allergic to wool.
Wool-it is for anyone with sore feet.
Application is quick, easy and effective.
Testimonials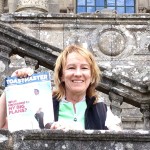 Gwyneth Carlaw
I used "wool it" for my walk across Spain on the Camino de Santiago. I found it be invaluable. Every morning before I began my days' walk, I would wrap it around my toes and on any pressure spots from the day before. I didn't get any blisters at all, which I'm told is almost unheard of on such a pilgrimage. I'm running in the Sydney city to surf and will use it on a toe issue I currently have. I would highly recommend it to everybody for use on lengthy walks or runs.        
Robyn & Rosey Doyle
We walked the Camino May 2015; The Way of St James across the top of Spain, 790k. A few days before we left for this wonderful walk, we were very lucky to find out about a new product to help in the prevention of blisters using wool fibre to tuck into hot spots in your socks. We used this daily on areas where we know we get blisters from other hikes and any hot spots that developed. During and at the end of the Camino we came through with no blisters and our feet being in great condition. We used vaseline daily and the wool fibre together. We are sure the wool fibre made the difference in the comfort of no blisters and from now on we will always make sure we have some Wool - it on hand ready to take on all our hikes. This is a lovely product and recommend other hikers try it and keep some on hand with their gear.
Esther and Angus Mabin , Hawkes Bay , 2015
We walked a section of St James Way -part of the Camino de Compostela. We chose the section from Conque to Cahor in the Mid Pyrenees. We walked for 7 days from18-28 kms a day ...150 kms in total. We both had comfortable well broken in walking shoes but both started to get blisters. The Wool-it 'wonder wool' was a lifesaver - it eased the pain and helped the healing process. We didn't stop at the first hint of pressure pain and so had blisters to drain that night with a sterile needle and painted on betadine. The following morning we carefully padded them with tufts of Wool-it - quite literally bliss for our blisters. We replaced the wool as needed . We met a few others with crippling blisters literally carrying around a pharmacy with them.. this is unnecessary and not nearly as effective.... just carry a little packet of Wool-it... Get them early and blisters will be averted - a little later and they will be simply sorted!! We told lots of people about your fabulous product - THANK YOU!
Josh Johnson
Wool-it saved my feet both hiking in Nepal and climbing in New Zealand mountains. Don't leave home without it!!
I didn't get a chance to say "thank you – it worked!" on the weekend. I had the wool around the front of my toes and no problems on the spot that I usually get a blister, followed by toe nail death! Excellent, am getting ready to tell all my running friends! I found the mountain mission hard, and as far as I can tell today, my feet are the only part that's NOT sore !
Celia B
All good until last few hours of 3rd day when my left heel started to niggle and I should have stopped! However, I put Wool-it in my boots on the 4th day and miraculously completed the track in comfort thanks to Wool-it.
Lyn H
Wool-it! I love it! If only I had started using it on Day 1 of the Kepler. I could feel 2 small blisters and just walked on, suffering. Day 4 was sheer BLISS - with blisters but not discomfort because I used Wool-it. For future NZ tramping 'apply Wool-it early'.
Vero
Imagine hiking without the fear of blisters and hot feet. It is possible - Wool-it did it! Thanks.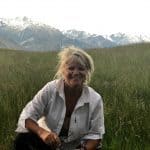 Lyn Townsend
Strategic Advice and Mediation Services
I was given a package of Wool-it as a part of a welcome kit with Active Adventures. I am 61 years old and suffer from osteoarthritis and other foot issues. My biggest challenge leading up to the trip was to find a way to shelter my feet from blisters and parts in need of padding. Wool-it is incredible. I was able to discard all the other foot solutions I had brought with me and simply used Wool-it to wrap the sensitive areas from chafing in my boots. This product is a miracle for hikers and this view was shared by many on the trip and since I have returned to Canada.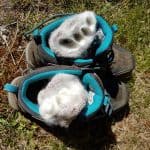 I bought a small pack of 'Wool-it' by chance at the local pharmacy before embarking on walking the Kepler Track over New Year this summer. I didn't know if I would need it but figured it was light and compact so there was nothing to lose. By the end of the first day, my tramping buddy began to get the start of a blister on her foot so for the second day she spread out some of the wool against the hot spot. It was a long day's tramp and by the end of it she announced that she was sure the cushioning of the Wool-it had made a difference - no blister had appeared. On that basis, at the start of days three and four of our tramp, we both liberally wove the wool between our toes to provide extra cushioning. Voila! No blisters! I took a photo to show what the wool looks like after a day's walking with it between your toes - magic little sheaths for each toe. I am now happily recommending Wool-it to my other tramping friends. Robyn
Mikayla R
Very late appreciation post but endless thanks to Wool-it , Stop Blisters for contacting our Oxfam team all the way from Christchurch and sending us free blister-prevention wool product to support us on our walk! Considering my weak ass gets blisters after a 30 second walk at the gym we literally wouldn't have been able to do the full 100km without it. Highly recommend their wool and can't express enough how thankful we are for Katey's kindness ! Please check our their page and support them the way they supported us xxx
Treka Trail
Ambassador to Stop Blisters Wool-it
Ambassador to Stop Blisters Wool-it. Adventurer, trail blazer, blister free, caring for the environment and saving soles. Follow me on instagram: #Trekatrail www.woolit.co.nz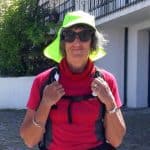 Esme Palliser
Richmond, Nelson NZ
Hi ....just arrived back in NZ after walking the Portuguese Camino from Lisbon to Santiago de Compestela....all up around 650km. I used Wool-it & although ( given the state of fellow pilgrims feet) I kept anticipating at least one blister - this never eventuated. I did recycle the wool-it most days - just teasing it out at the end of the day all ready for the next. So thank you Wool-it.....I'll continue to sing your praises for this great product! Best wishes, Esme Palliser